National Investment Market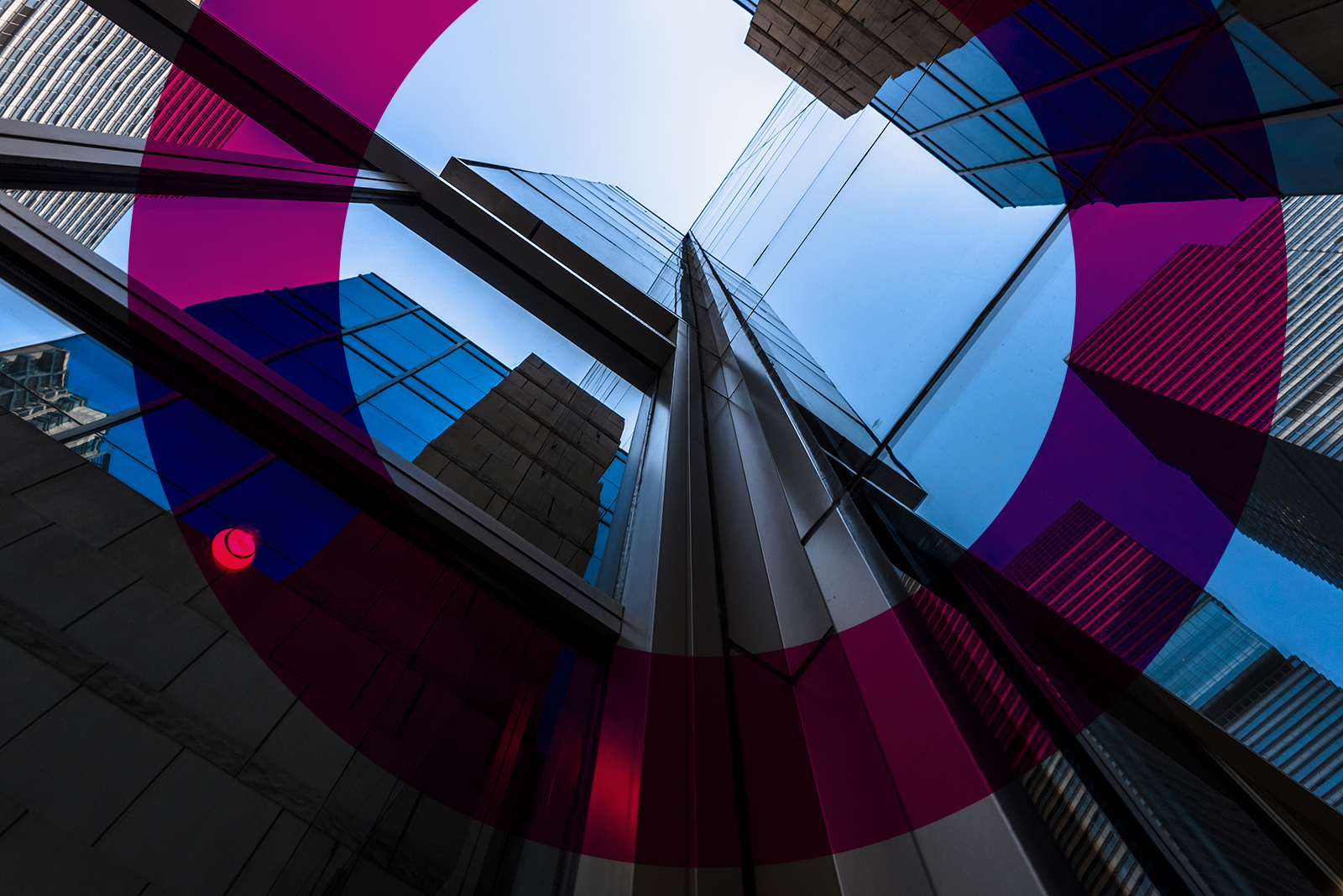 With the ongoing political turmoil, Q3 2019 proved a difficult quarter for UK commercial property transaction volumes. For the full year 2018 and Q3 2019, transaction volumes for the entire UK market were down overall as follows:
£56.75 Bn:- down 9.8% on 2017. London accounted for £20.7 Bn.
£16.86 Bn:- down 39.2% on H2 2018.
£8.68 Bn:- down 22.5% on Q3 2018.
Q3 2019 proved a difficult quarter for UK commercial property transaction volumes
Q3 has witnessed a slight resurgence in the industrial sector having seen a total of £1.43Bn transacted over the 190 deals recorded. This reflects a 33% increase on Q2 2019 which witnessed the lowest quarterly transactional volume since Q2 2016.
The most notable trend of Q3 2019 is the average deal size which reflects £7.3M. When compared to the £15.3M average deal size achieved in Q3 2018 it is clear that last quarter's sales volume was propped up by the smaller, secondary industrial market. The main contributor toward this trend is a lack of institutional transactions. This has been a result of a limited supply of prime opportunities and a reluctance to deploy capital in the lead up to BREXIT. Instead the industrial market has been driven by UK property companies and private investors who have been eager to capitalise on a potential discount as a result of reduced institutional demand.
Whilst nothing dramatic, we have witnessed a slight discount in the secondary industrial market. With a rare influx of opportunities in the £2M - £15M bracket in Q3, buyers have found themselves in an unusual position of having options and therefore the ability to be selective. This has resulted in some investments struggling to achieve quoting terms as they fall between the highly desirable long dated income and value add opportunities.
Whilst there have been a limited number of prime distribution transactions in Q3, yields remain in the region of 4.00% with focus on income duration, location and covenant strength. Fixed and index linked review provisions continue to push pricing with yields in the region of 3.50% NIY achieved for 15 year plus income. Prime multi-let yields remain in region of 4.50% - 5.00%. The London multi-let industrial market continues to push the yield boundaries with one of the stand out multi-let deals of the quarter being the sale of Sargent Industrial Estate, Wandsworth which sold in September for £28.15M reflecting 2.30% NIY.
Other notable industrial transactions during Q3 include; Panattoni Park, Northampton (309,630 sq ft unit let to Eddie Stobart for 15 years) which sold for £86.6M reflecting 4.65% NIY, Rockware Avenue, Greenford (let to Royal Mail with 10 years unexpired) which sold for £70.15M reflecting 3.20% NIY and Tower Thurrock, West Thurrock (multi-let to; Amazon, Co-Op & Elliot Baxter with an AWULT of 7.7 years) which sold for £56m reflecting 3.90% NIY.
The High Street retail investment market remained subdued in Q3 2019. Investor confidence in the sector remains low; this is continuing to be amplified with the news of more retailers suffering with Debenhams and Select the latest major High Street names to enter into CVAs.
The most significant deals include London Borough of Havering's purchase of 39-43 South Street, Romford for £14.03M - 5.67% NIY, Redevco's purchase of the White Lion Walk Shopping Arcade in Guildford for £12M – 5.75% NIY and Amsprop's purchase of 4, 6, 6a Clarence Street, Kingston-Upon-Thames for £9.82M - 5.25% NIY.
The depth of interest for High Street investments has remained thin across the sector with prime yields consolidating at close to 5.5%.
It is clear that any demand within this sector is for assets within London and top tier retail locations, although this list has shortened in recent months, alongside investments offering secure income. The biggest imbalance is between price expectations of vendors and purchasers. 'Book' valuations are starting to come closer to aligning with the market however opportunist investors are bargain hunting and are generally below these levels. Expect transactional volumes to remain low until the price expectation gap narrows further.
Investors continue to focus closely on rents – buyers are unwilling to invest in assets they perceive as being over-rented, unless the price paid enables them to consider taking a cut at the next tenant negotiation.
Secondary and tertiary retail remains less resilient with yields continuing to move further out, increasing the gulf been prime and secondary. Tertiary yields in this sector remain 10%+.
Allsop advised on several transactions throughout the last quarter including the disposals of Nidderdale House, 4-16 Cambridge Road, Harrogate for £5.55M – 7.4% NIY, 48 – 54 St Ann's Road, Harrow for £4.1M – 6.5% NIY and the disposal of Superdrug, 49 High Street, Brentwood achieving £1.9M – 8.6% NIY.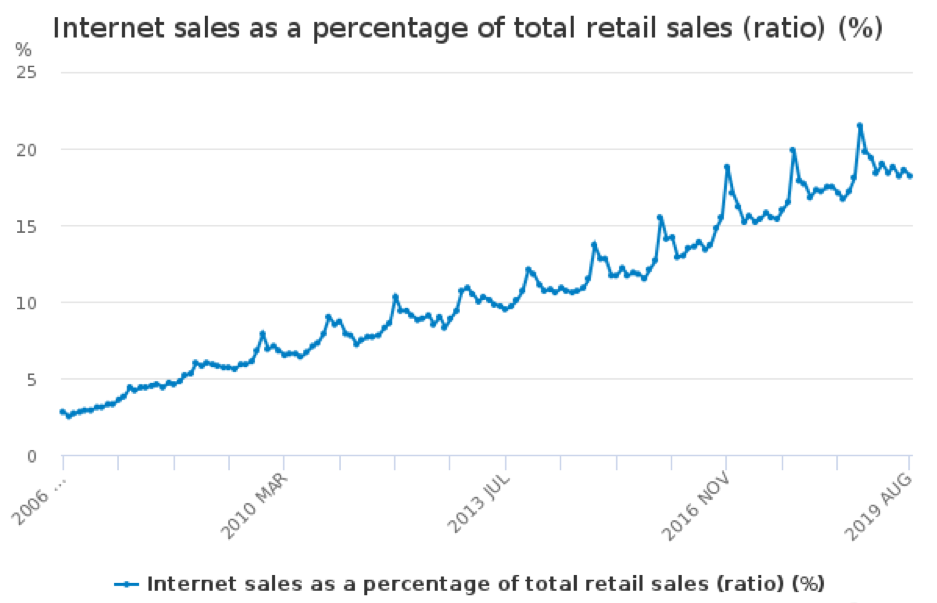 The strong and consistent growth in internet sales as a percentage of total sales over the past 10 years shows the rise of online retail and the demise in market share to traditional physical retailers. Indeed, recent data for August 2019 shows internet sales as 18.4% of the total sales compared to 5.9% in August 2009. However, the rise of online retail spend has impacted the retail sector in different ways with shopping centres and high street retail bearing the brunt of this decline due to the type of goods sold, higher cost of sales (rent, business rates) compared with online retailers and declining levels of footfall.
Retail warehousing is arguably the most defensive part of UK retailing against the rise of online retail. This is due to the nature of goods sold which are generally bulky and costly to transport and the flexibility of the space available.
Despite the negative sentiment surrounding the sector, there continues to be significant occupational activity particularly at the value end of the market. This has been driven by retailers including Aldi, Lidl, B&M, Home Bargains and The Range. This trend looks likely to continue into 2019 and beyond, as consumers tighten their belts in response to political and economic uncertainty. The success of the value sector is perhaps best exemplified by the rise of the German discounters who have been seizing market share from the incumbent big four (Tesco, Sainsbury's, Morrison's and Asda).
Retail warehousing will continue to be attractive due to accessibility, unit sizes, car parking, and lower occupational costs compared to the high street. The proportion of retail sales that take place online is still rising and will probably continue to rise although the type of goods sold from many retail warehouse parks are less sensitive than goods that are sold on the high street to the rise of online.
Whichever way the political winds blow, 2019 will no doubt continue to be a challenging year for retailers, and this will continue to affect occupational demand. We anticipate therefore that whatever the political and economic outcome, the recent strong growth in demand from the value retailers will likely be sustained and investment volumes into retail warehousing are likely to prove resilient when compared to high street retail and shopping centre volumes.
Investment volumes for regional offices remains subdued with the continuing political uncertainty. Yields in the sector have remained stable due to a lack of supply and weight of money chasing regional office stock. This is not surprising given that the fundamentals of the national office markets remain robust. The south east and 'Big 6' cities are generally all at record low levels of Grade A supply at sub 6%, take up has remained high and development pipelines remain constrained. This has resulted in a general expectation of short to medium term rental growth in these sub-markets.
In terms of buyers, local councils are still active with Portsmouth CC investing £138M in August and Cheltenham CC spending £37.5M. We expect this pool of buyers to be replaced by overseas capital due to competition for Central London assets forcing investors to look further afield.
The largest deal was Goldman Sachs' acquisition of the Croxley Business Park in Watford for £400M at 2.5% NIY, leased to Watford Borough Council until 2059, at which point the council has an option to buy the freehold of the business park for a nominal £1.
Following our rather gloomy Q2 2019 portfolio market update, transactional activity has markedly improved over the summer nearing c.£4Bn in volume across over 45 deals. Whilst alternative/long income and residential portfolios continue to prop up the market, core commercial stock levels have also improved in the now commonplace "selectively marketed" arena.
UK Institutional Fund disposal activity has boosted short term stock, which we anticipate will continue towards the end of the year. UK Property Company and Overseas capital remain acquisitive, albeit, international funds committed have seen some fluctuation this year due to the political economic climate in the UK and abroad. Currency markets have also played a crucial role this year as some investors have benefitted significantly from devaluation of the pound sterling, in particular from March to August.
Looking down the final furlong of 2019, we have a very busy schedule, with four portfolios currently under offer across a range of use classes with more to come. We have found particular success within long income and alternative sectors including hotels and petrol filling stations, however, asset management focused portfolios are equally popular in the £20-£50M range. Watch this space…
---
Alex Butler
DL +44 (0)20 7543 6722
alex.butler@allsop.co.uk