A city icon about to be reborn
Jonathan Ruback

City Investment
The iconic Ibex House stands in a prominent position, occupying an island site of 0.75 acres, just a short walk from Aldgate. This impressive 1930s office building was designed by architects Fuller, Hall and Foulsham in the Streamline Moderne style of Modernist architecture, popularised across the UK by Odeon Cinemas. Today, Ibex House finds itself at the crossroads of London's creative, financial and tech districts.
The Streamline Moderne, or Art Moderne style encompasses both the elegance and industrial elements of the 1930s. This architectural style is expressed through curving forms, long horizontal lines, and sometimes, nautical elements. At Ibex House, this is represented through black metal-framed windows forming continuous horizontal bands of glazing, and a dramatic curved window beneath a projecting canopy roof.
The Streamline Moderne style can be seen as a rejection of Art Deco: sharp angles were replaced with aerodynamic curves, whilst exotic woods and stone were substituted with sleek concrete and glass. It was also the first architectural style to incorporate electric light into building structure, resulting in an ultra-modern appearance that encapsulated the spirit of the time.
At the time of construction in 1937, Ibex House had the longest bands of glass in the UK, which, perhaps, contributed to it being awarded Grade II listed status less than fifty years after it was built.
Today, in addition to the 191,144 sq ft of office space, this spectacular building houses a restaurant and retail space as well as a gym incorporating an underground swimming pool. Ibex House is let to a diverse mix of 28 tenants, including Capita Business Services, BBC Media Action, Breast Cancer Now, Lark (Group) Ltd, Virgin Active Health Clubs Ltd, and PLP Architecture, where its London headquarters are based.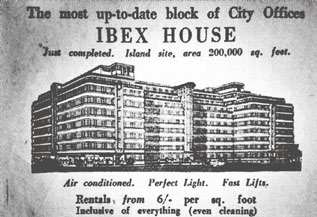 This 1937 newspaper advert launched the new development with a quoting rent of just six shillings per sq ft!
Allsop City Investment Team has recently advised on the sale of this City icon for a figure in excess of £121m to joint venture partners Henderson Park Capital Partners and Dukelease Properties. Following the purchase, the new owners are planning on breathing new life into this architectural landmark, with a comprehensive refurbishment to take the building to its next phase.
Located in London's Tech Belt, to the east of the core of the City of London, Ibex House is well placed for occupiers from within the financial, tech and creative sectors, which are among the top contributors to the UK economy. Tenants operating in the rapidly expanding Telecoms, Media and Telecommunications (TMT) sector, would also benefit from the building's advantageous location.
Furthermore, significant development is planned for the area around Ibex House. The Minories Estate will be repositioned to provide a 342-bed Hilton Canopy, in addition to 147,000 sq ft of new offices, restaurants and retail space.
To the south, Lloyds Chambers will be transformed into a tech-based centre, whilst Royal Mint Court has recently been purchased by the Government of the People's Republic of China who will develop a 600,000 sq ft new embassy, educational and cultural hub. All this redevelopment brings with it new bars, restaurants and cafés, adding richness to an already culturally vibrant quarter.
Ibex House is a paragon of Art Moderne architecture, standing as a reminder of London's past. But it is also very much a part of today's business economy, housing well-known names from across the business spectra. Perhaps most importantly, it is located in the centre of an area of redevelopment, and with the new owners planning an exciting revamp, Ibex House has secured its place in London's future.
Awarded Grade II listed status less than fifty years after it was built