Transformation complete! How

ARNOLD

became the new hot property in Shoreditch
James Proctor City Office Leasing
The Grenfell tragedy and Dame Judith Hackitt's review on building regulations and fire safety highlight the responsibilities of landlords and the importance of good management.
The building is located at the heart of the Shoreditch triangle, offering easy access to the City and the tech centre of Old Street. Shoreditch is a hotbed of up-and-coming start-ups, successful entrepreneurs and established corporates, as well as a cultural landmark, giving the area a unique appeal.
But, despite its trendy location, Arnold House was struggling to attract new tenants. Moreover, built in the 1960's and suffering from tired interiors, no facilities or air-conditioning, just one lift and only single glazing, rental values were low.
One option was to knock the building down and start again; another was to do a light refurbishment, fixing only what really needed to be fixed. But knocking the building down would take a long time, and there would be significant planning risk associated with this approach. On the other hand, it was clear Arnold House needed much more than a lick of paint.
With this in mind, The Property Trust Group agreed to an alternative approach, which could add significant value to the scheme. The building is located in an area that is highly popular with tenants and where there is demand for modern floorspace at a higher market rent than Arnold House was able to command.
As an old warehouse, the structure of the building was strong, and its floor-to-celing height was also good: it was established that a series of comprehensive renovations and an extension would breathe new life into the building and help the landlord attract more tenants, generate more income and increase its capital value.
Arnold House was rebranded as, simply, ARNOLD, while designs of the new, modernised space reimagined interiors as a characterful workplace designed for tech and creative companies, particularly those operating in the rapidly expanding Telecoms, Media and Telecommunications (TMT) sector.
Following substantial refurbishment work to bring these designs to life and by extending the building, the property now stands as a stylish 75,000 sq ft office called ARNOLD. Indeed, standing as it does just a short distance from the City of London and London's Tech Belt, ARNOLD is a dream come true for tenants looking for spacious, contemporary offices in the capital.
By adding three new floors and a rear extension, ARNOLD increased in size from 50,000 sq ft to an impressive 75,000 sq ft. The property now boasts six floors of over 9,000 sq ft each — almost double the size of floorplates typical for this part of London. Now, tenants enjoy an airy, sophisticated environment that is flooded with natural light.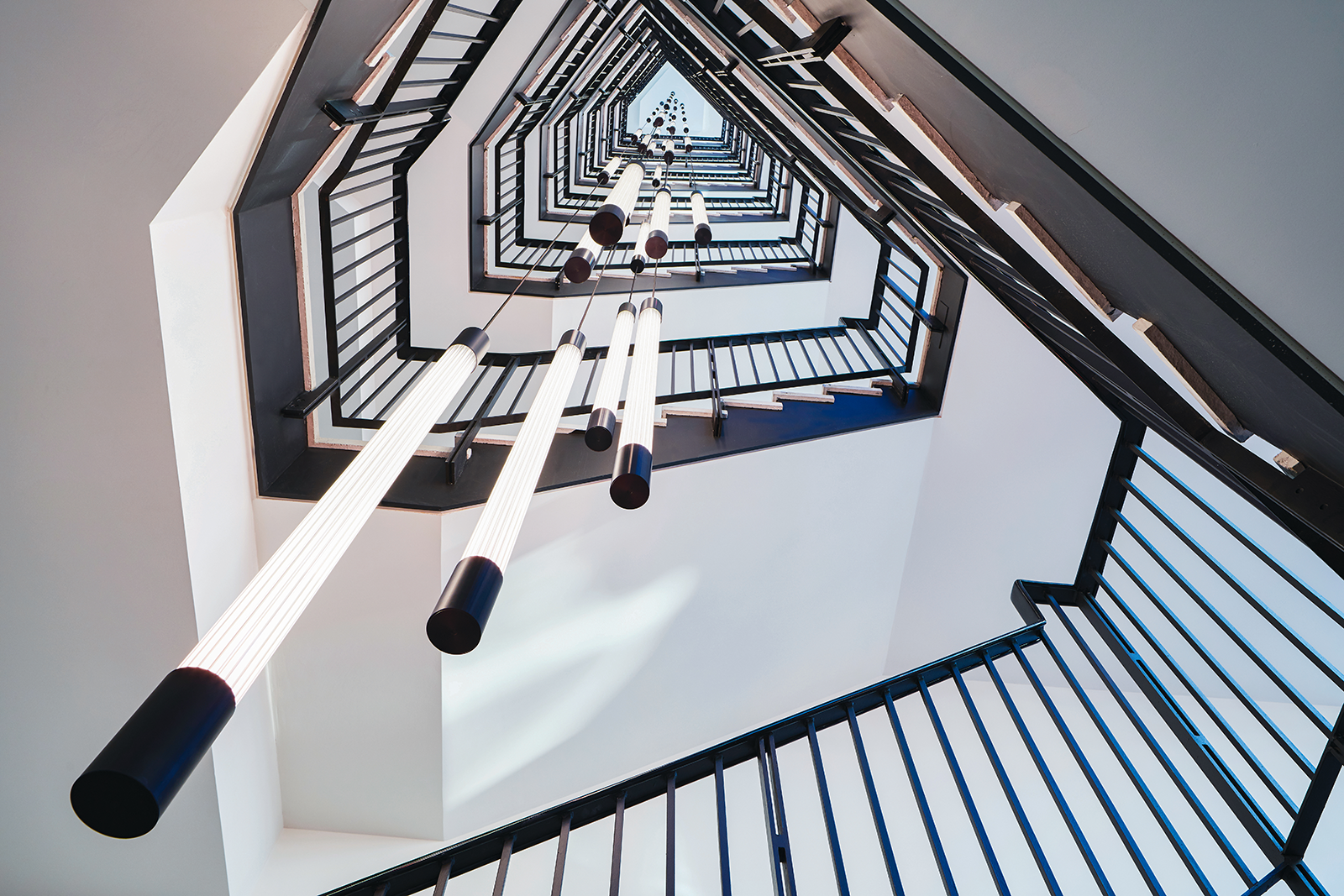 Arnold House was struggling to attract new tenants
Further improvements were made on the ground floor, where retail space was incorporated into the scheme, and a new enlarged and sleek reception area created. The City team also suggested introducing cycle storage: ARNOLD now offers 132 cycle spaces, as well as a generous number of showers, lockers and changing facilities, making it easy for tenants to cycle to and from work.
In addition, ARNOLD's outdoor spaces support an open and relaxed business culture. Roof terraces, totalling 3,822 sq ft, and a soon-to-be landscaped courtyard offer space for tenants to relax, socialise or have informal outdoor meetings.
A new air-conditioning system, three new large lifts, a BREEAM rating of 'Very Good' a WiredScore rating of 'Gold' and — the final flourish — a statement light feature weighing approximately 450kg, hanging down the stairwell from the seventh floor, complete the renovation. ARNOLD's new stylish interior enhances the building's existing charm, allowing it to stand out as a distinctive commercial property, very much in tune with its surroundings.
Following the works, The Property Trust Group now has a more attractive asset that can command much higher rents and attract new occupiers. With the building already half let to a company operating in the TMT sector, the landlord is seeing the benefits of unlocking unforeseen value.